NM6406
NM6406 is a high performance DSP processor designed for real time data flow processing. The architecture is based on the advanced VLIW/SIMD NMC3 core, and consists of a 32/64-bit RISC processor and a 64-bit VECTOR co-processor. The co-processor supports vector/matrix operations with elements of variable bit length (US Pat. 6539368 B1).
Features
32/64-bit RISC processor core;
64-bit vector coprocessor (VECTOR COPROCESSOR);
Four dual port internal SRAM banks (8Кx64 bit each);
1Кх64bit of instruction cache memory (ICACHE);
Address generator unit (AGU);
Two 64-bit external memory interfaces (LMI иGMI), that operate at speed up to 130 MHz;
Two Byte communication ports with throughput each up to 150 MB per second;
Eight general purpose IO ports (GPIO);
JTAG port for debug and test purposes;
Two independent DMA controllers;
Internal/External interrupts controller (INTERRUPT);
Two universal 32-bit timers (TIMER0 иTIMER1).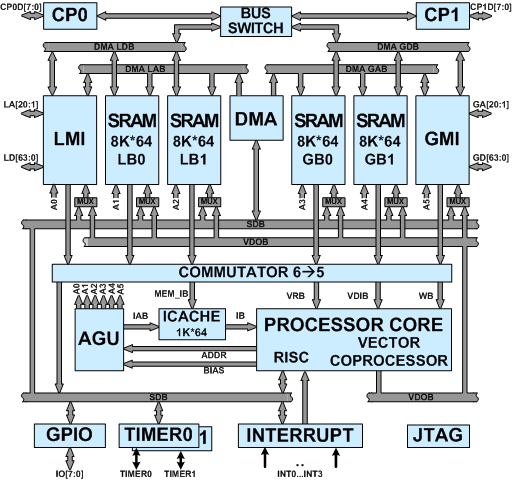 Main characteristics
CMOS technology - 90nm;
package - 416 BGA;
Clock frequency - 320 MHz;
Power supply - 1,2 V (core) 3,3 В(I/O buffers);
Power consumption - less than 1,2 W;
Ambient temperature: -55°C : +85°C.
Applications
IR and video processing;
Navigation;
CDMA иTDMA base stations.
---
Documentation